Meet Our Staff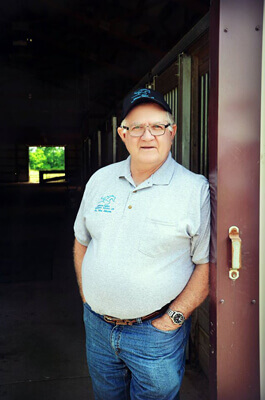 John E. Johnson, DVM, MS (Jack)
Direct Line: (414) 344-8849
Dr. Jack Johnson was born and raised on a farm in rural Manitoba, Canada, with an array of animals. He is the oldest of ten children (cheap labor on the farm!). He graduated from high school and decided to stay home to work on the farm. After only a year, he quickly decided that farming wasn't for him. He did break eight horses to ride in that year... although claims to have had no clue as to what he was doing besides continuously getting back on after being bucked off. (This continued until the horses were just too tired to continue the rodeo games)
He began his per-veterinary training at the University of Manitoba, where he excelled in classes such as Organic Chemistry. He was accepted into the third class at the new veterinary school at the University of Saskatchewan in Saskatoon, Saskatchewan. After graduating, he was accepted into an equine internship at the Large Animal Clinic of the University of California- Davis. It was here that he learned more than any other period within his professional career. From there, Dr. Jack began a two year large animal surgery residency at the New York State Veterinary College at Cornell University in Ithaca, New York.
He worked for a year as a surgeon and race track practitioner under Dr. S.P. Dey of Allentown, New Jersey. It was after this that he decided to start his own race track practice in New Jersey which he continued for over 22 years working at several racetracks (primarily Standardbred tracks) including Freehold Raceway and Meadowlands (New Jersey), Yonkers Raceway, Roosevelt Raceway, Monticello (New York), and Pompano Park (Florida).
His racetrack patients included several champion Standardbreds such as Cam Fella (winner of 28 straight races as a 4 yr. old), Immortality and Miss Easy (winners of Mare of the Year in their age classes), Woodrow Wilson, Pace winners - Cullin Hanover, Land Grant, and American Winner (winner of the Hambletonian).
In 1995, he left the East Coast to join the Wisconsin Equine Clinic in Oconomowoc as the third veterinarian in the new practice. He spent 11 years there before leaving to join the Food Safety Inspection Service of the USDA as a Relief Supervisory Veterinary Medical Officer. This career had him spending time in various parts of Pennsylvania and Wisconsin before returning to Southeastern Wisconsin full-time to start up a private equine practice in his spare time from the USDA. In May of 2014, Dr. Jack retired from his USDA job in order to dedicated his time fully to his equine practice. In July, 2013, he hired on Dr. Julie Gauthier and shortly after Johnson Equine Veterinary Service, Ltd. was born.
Outside of work, Dr. Jack enjoys hunting, fishing, hockey, golf, and curling. After all of this time, he has come to realize he is most content when working with horses, their owners, and trainers. He plans to continue working as long as he is able because even after 44 years of equine practice, Dr. Jack still enjoys the challenge.
---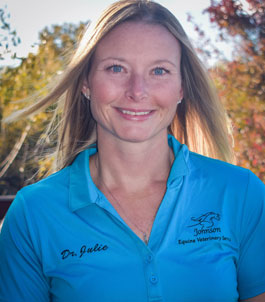 Julie Gauthier, DVM
Direct Line: (414) 704-2620
Dr. Julie Gauthier is a native to the Oconomowoc area. She grew up showing western pleasure horses through 4-H and later transitioned to showing draft horses which she still enjoys. Dr. Julie got her undergraduate degree from UW-River Falls and attended UW-Madison for veterinary school. After graduation, she completed a one year internship at Wilhite & Frees Equine Hospital, near Kansas City, Missouri. She joined Johnson Equine Veterinary Services in July 2013 and has thoroughly enjoyed getting to know all of her wonderful patients and clients. When Dr. Julie is not working she enjoys spending her time outdoors and with family, friends, and her two dogs. She is also an avid Badgers and Packers fan!
---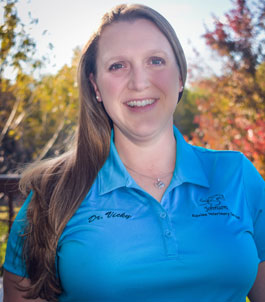 Vicky Gnadt, DVM
Direct Line: (414) 704-6648
Dr. Vicky Gnadt is a native to Milwaukee. She had a love of horses from an early age, and begged for riding lessons as a young girl. She decided early on that she wanted to become a veterinarian. She pursued her education at the University of Wisconsin-Madison for her undergraduate degree, and then veterinary school. After graduation she completed a 1-year internship at Merritt and Associates Equine Hospital (now known as Chicago Equine Medical Center) where her education focused on performance horses and equine lameness. Dr. Vicky then moved to central Wisconsin to be the equine veterinarian at a mixed animal practice, Athens Veterinary Service. During that time she became certified in Veterinary Spinal Manipulation Therapy (also known as animal chiropractic) at the Healing Oasis. Realizing that working on cattle and small animals just didn't hold a candle to working on horses, she switched back to being an equine only veterinarian. She worked at Great Lakes Equine where she got to focus on her favorite aspects of equine medicine, including ophthalmology, dentistry, and VSMT. Dr. Vicky is now happy to be a part of the Johnson Equine team and closer to her hometown of Milwaukee. In her free time Dr. Vicky enjoys spending time with her gelding, bike riding, kayaking, and cooking. She also enjoys relaxing at home with her 2 Siamese cats.
---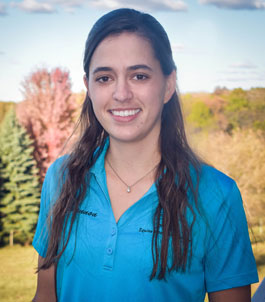 Shannon Roska, DVM
Direct Line: (414) 704-3460
Dr. Shannon Roska is a native Wisconsinite. She received her veterinary degree at the University of Wisconsin-Madison. Following this, she completed a rotating equine internship in upstate New York at Rhinebeck Equine followed by a large animal surgery internship at Tufts University. Professionally, she has a keen interest in sports medicine, lameness, and diagnostic imaging. Outside of her professional life, she is an outdoors enthusiast, a craft beer aficionado, and a die-hard Green Bay Packers fan. She also enjoys spending time with family and her OTTB, Kola.
---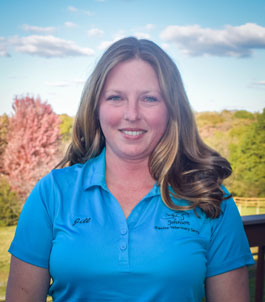 Jill Kozera, Vet Assistant
Jill grew up in the Sussex area and now resides in Oconomowoc with her husband, Kyle (who she describes as kindhearted and understanding of her horse collecting issues), 2 Jack Russell Terriers, (Brewer and Lovey) and a black cat (Olive). She spends most of her time outside of work riding and caring for her 5 horses and a mini donkey named Soupie.She has owned and managed her own horses since she was 8 years old, with, of course the help of her mother, Laurie, and a very supportive hay-baling family. She started with a foundation in 4-H and Pony Club, finishing with a traditional B rating from the Run 'O the Mill Pony Club. She also competed in the local and regional hunter/jumper circuits and enjoyed much success with her horses. While Jill attended college at UW-Milwaukee, she also was employed at a local equine hospital where she learned many of the important on-the-job tools that she utilizes today. A hiatus from college found her traveling across the country working for a top rider and learning to manage elite show jumpers and breaking out young horses. After graduating college in 2006, Jill paid her dues in corporate America and sold durable medical equipment. Soon thereafter, she found my way back to her true love and passion, the horses. She now works as the veterinarian assistant for Dr. Johnson and Dr. Gauthier, traveling with either or both doctors on their busy days to help with appointments. She credits the terrific people and their beautiful equine partners that she works with daily for making her job fun and educational at the same time.
---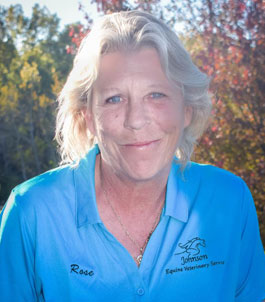 Rose Knapp, Vet Assistant
Rose grew up in the Kettle Moraine area and comes to us with a vast skill set. She has experience with animals of all sorts- including prior work with llamas, horses, and wildlife, in which she has her wildlife rehabilitation ccertification. Prior to coming to Johnson Equine, Rose worked with at risk youth for 38 years at Lad Lake. She developed a program there that allowed the youth to become involved in helping wildlife in need and the community around them. Although she thoroughly enjoyed working at risk youth, her true passion lies with animals. She joined our team in 2018 and will be assisting both in the office as well as on the road with all of our vets.
---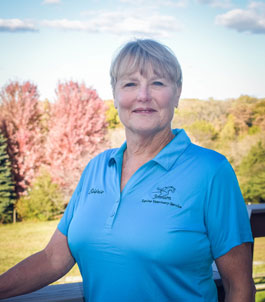 Eddrie Johnson, Office Manager
Bio coming soon
---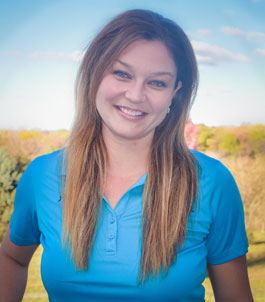 Jaci Allar, Administrative Assistant, Billing
Jaci grew up in the Lake Country area and now owns a small boarding stable in Sullivan, WI with her husband and three sons who keep her constantly on the go. She was born with a love for animals and began riding at age 8. As she grew up, she competed at local and regional hunter/jumper shows as well as local Pony Club events. While in college at UW-Madison, she joined the intercollegiate UW-Madison Equestrian Team and helped them qualify for IHSA Nationals numerous times while also working as the assistant trainer at a local Hunter/Jumper stable.
Jaci recieved her BS in Zoology at UW-Madison and later completed her MBA in Management and Marketing at UW-Whitewater. She joined the JEVS team as the office manager in Fall of 2014 where she handles all Accounts/Billing, Marketing, as well as other day to day organizational tasks (hopefully making Dr. Johnson's & Dr. Gauthier's days a little easier- along with our clients!) She is very excited to join such a great team with strong values, vast knowledge and amazing expertise in the horse industry.
In the little spare time she has, Jaci enjoys caring for and riding her horses, playing with her boys and dogs, snowboarding, vacationing when possible, and spending time with friends and family.
---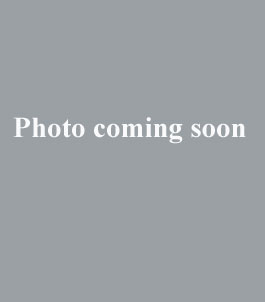 Nicole Howie Administrative Assistant, Billing
Nicole has been working in various roles within the veterinary industry since 2000. She is married to her high school sweetheart, Wayne, and has 3 beautiful little kids. Nicole and her family reside in Helenville on a small hobby farm along with their dog, 4 horses, chickens, and goats. In her spare time, Nicole enjoys riding, crafting, and doing almost anything outdoors. She is excited to be a part of the incredible Johnson Equine team.
---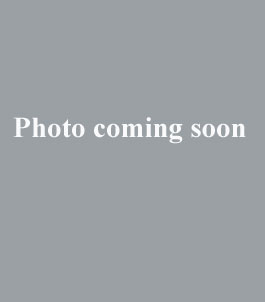 Jessica Shmitt, Administrative Assisant, Medical Records
Jessica grew up in LA, and has since lived in both Boston, Massachusetts and Wisconsin. Her passion for horses and riding began at age 5 and still exists today. She began working as a small animal veterinary assistant at the age of 16 and continued such a career for 17 years while living in Boston. These many years of working with animals led to a Supervisor role at a small animal general practice in Weston, Massachusetts which she held while also attending nursing school. She passed the VTNE exam in 2005 and continued to work as a CVT while also working as a nurse. Currently Jessica works as an emergency room RN in Milwaukee while also assisting with medical records for Johnson Equine. In her spare time she enjoys spending time with her two Quarter horse geldings, Jester and Kodi, her dog, Kiva, and cats, Boshi, Red, Kia, and Earl (and her husband too). She also enjoys traveling on an annual family scuba dive trip to remote tropical areas with her older brother and to visit her son who resides in Germany.