Meet Our Staff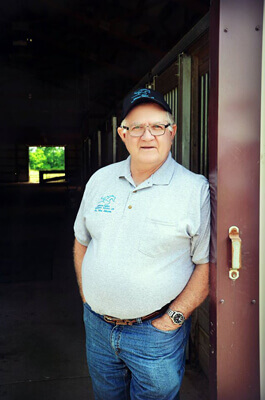 John E. Johnson, DVM, MS (Jack)
Direct Line: (414) 344-8849
Dr. Jack Johnson was born and raised on a farm in rural Manitoba, Canada, with an array of animals. He is the oldest of ten children (cheap labor on the farm!). He graduated from high school and decided to stay home to work on the farm. After only a year, he quickly decided that farming wasn't for him. He did break eight horses to ride in that year... although claims to have had no clue as to what he was doing besides continuously getting back on after being bucked off. (This continued until the horses were just too tired to continue the rodeo games)
He began his per-veterinary training at the University of Manitoba, where he excelled in classes such as Organic Chemistry. He was accepted into the third class at the new veterinary school at the University of Saskatchewan in Saskatoon, Saskatchewan. After graduating, he was accepted into an equine internship at the Large Animal Clinic of the University of California- Davis. It was here that he learned more than any other period within his professional career. From there, Dr. Jack began a two year large animal surgery residency at the New York State Veterinary College at Cornell University in Ithaca, New York.
He worked for a year as a surgeon and race track practitioner under Dr. S.P. Dey of Allentown, New Jersey. It was after this that he decided to start his own race track practice in New Jersey which he continued for over 22 years working at several racetracks (primarily Standardbred tracks) including Freehold Raceway and Meadowlands (New Jersey), Yonkers Raceway, Roosevelt Raceway, Monticello (New York), and Pompano Park (Florida).
His racetrack patients included several champion Standardbreds such as Cam Fella (winner of 28 straight races as a 4 yr. old), Immortality and Miss Easy (winners of Mare of the Year in their age classes), Woodrow Wilson, Pace winners - Cullin Hanover, Land Grant, and American Winner (winner of the Hambletonian).
In 1995, he left the East Coast to join the Wisconsin Equine Clinic in Oconomowoc as the third veterinarian in the new practice. He spent 11 years there before leaving to join the Food Safety Inspection Service of the USDA as a Relief Supervisory Veterinary Medical Officer. This career had him spending time in various parts of Pennsylvania and Wisconsin before returning to Southeastern Wisconsin full-time to start up a private equine practice in his spare time from the USDA. In May of 2014, Dr. Jack retired from his USDA job in order to dedicated his time fully to his equine practice. In July, 2013, he hired on Dr. Julie Gauthier and shortly after Johnson Equine Veterinary Service, Ltd. was born.
Outside of work, Dr. Jack enjoys hunting, fishing, hockey, golf, and curling. After all of this time, he has come to realize he is most content when working with horses, their owners, and trainers. He plans to continue working as long as he is able because even after 44 years of equine practice, Dr. Jack still enjoys the challenge.
---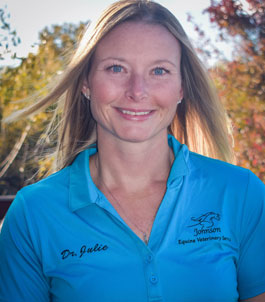 Julie Gauthier, DVM
Direct Line: (414) 704-2620
Dr. Julie Gauthier is a native to the Oconomowoc area. She grew up showing western pleasure horses through 4-H and later transitioned to showing draft horses which she still enjoys. Dr. Julie got her undergraduate degree from UW-River Falls and attended UW-Madison for veterinary school. After graduation, she completed a one year internship at Wilhite & Frees Equine Hospital, near Kansas City, Missouri. She joined Johnson Equine Veterinary Services in July 2013 and has thoroughly enjoyed getting to know all of her wonderful patients and clients. When Dr. Julie is not working she enjoys spending her time outdoors and with family, friends, and her two dogs. She is also an avid Badgers and Packers fan!
---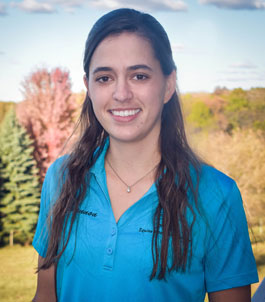 Shannon Roska, DVM
Direct Line: (414) 704-3460
Dr. Shannon Roska is a native Wisconsinite. She received her veterinary degree at the University of Wisconsin-Madison. Following this, she completed a rotating equine internship in upstate New York at Rhinebeck Equine followed by a large animal surgery internship at Tufts University. Professionally, she has a keen interest in sports medicine, lameness, and diagnostic imaging. Outside of her professional life, she is an outdoors enthusiast, a craft beer aficionado, and a die-hard Green Bay Packers fan. She also enjoys spending time with family and her OTTB, Kola.
---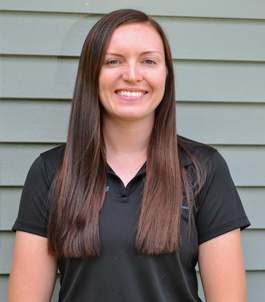 Abigal Ball, DVM
Direct Line: (414) 704-6648
Dr. Abigal Ball grew up in the Waterford area. She attended the University of Wisconsin-Madison for her undergraduate education in Animal Science. Following this, she stayed in Madison to receive her Doctorate of Veterinary Medicine (DVM) with an equine emphasis at the University of Wisconsin School of Veterinary Medicine in 2019. Following veterinary school, she moved east to Milton, Vermont to complete a one-year internship in equine medicine and surgery at Vermont Large Animal Clinic- Equine Hospital. She moved back home to Wisconsin in 2020 to join Johnson Equine Veterinary Services and is excited to meet all of the wonderful clients and patients here. Dr. Abigal's professional interests include dentistry, ophthalmology, reproduction, and lameness. Outside of veterinary medicine, she enjoys all things outdoors, including fishing, cycling, running, hiking, and she is an avid snowmobiler in the winter. She also runs a small dairy goat breeding operation and exhibits her animals at various shows across the country.
---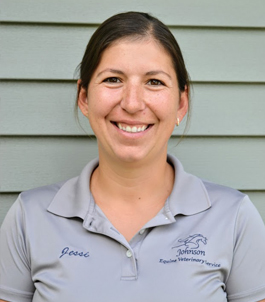 Jessi Mode, CVT
Jessi grew up in the Lake Country area and now lives on a small hobby farm in Sullivan with her husband Nate, 2 horses, 3 dogs and their cat. Jessi was an animal lover from a very early age. She started riding when she was 6 and still does today whenever she has a free moment. Getting her first horse at age 11, a wild Mustang, she learned very early the importance of safety and respect around horses. She grew up with this very special mare showing in 4-H shows, local shows, and was grand champion at the state expo. Now her and her husband, along with their horses and dogs, enjoy trail riding and camping all over the country. Jessi graduated from MATC in 2007 with an Associate's Degree in Animal Science and took her VTNE to earn her certification for Veterinary Technician. She started out in a mixed animal day practice where she helped treat small and large animals then moved to the WI Veterinary Referral Center in the Surgery department. Here she got to work on dogs and cats and the occasional Milwaukee County Zoo animal. After becoming more involved with the Surgery aspect, she changed paths to work with her favorite animal of all, horses, joining the Johnson Equine team in July of 2019 as a CVT. In her spare time, Jessi enjoys gardening, canning, riding, traveling with her husband, horses and dogs, and spending time with family and friends.
---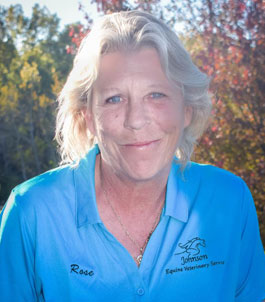 Rose Knapp, Vet Assistant
Rose grew up in the Kettle Moraine area and comes to us with a vast skill set. She has experience with animals of all sorts- including prior work with llamas, horses, and wildlife, in which she has her wildlife rehabilitation ccertification. Prior to coming to Johnson Equine, Rose worked with at risk youth for 38 years at Lad Lake. She developed a program there that allowed the youth to become involved in helping wildlife in need and the community around them. Although she thoroughly enjoyed working at risk youth, her true passion lies with animals. She joined our team in 2018 and will be assisting both in the office as well as on the road with all of our vets.
---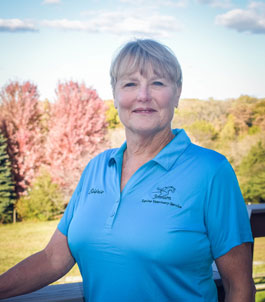 Eddrie Johnson, Office Manager
Bio coming soon
---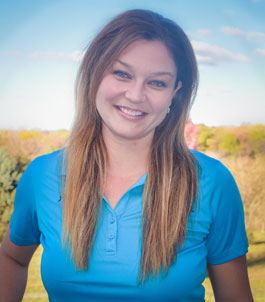 Jaci Allar, Administrative Assistant, Accounts Payable
Jaci grew up in the Lake Country area and now owns a small boarding stable in Sullivan, WI with her husband and three sons who keep her constantly on the go. She was born with a love for animals and began riding at age 8. As she grew up, she competed at local and regional hunter/jumper shows as well as local Pony Club events. While in college at UW-Madison, she joined the intercollegiate UW-Madison Equestrian Team and helped them qualify for IHSA Nationals numerous times while also working as the assistant trainer at a local Hunter/Jumper stable.
Jaci recieved her BS in Zoology at UW-Madison and later completed her MBA in Management and Marketing at UW-Whitewater. She joined the JEVS team as the office manager in Fall of 2014 where she handles all Accounts/Billing, Marketing, as well as other day to day organizational tasks (hopefully making Dr. Johnson's & Dr. Gauthier's days a little easier- along with our clients!) She is very excited to join such a great team with strong values, vast knowledge and amazing expertise in the horse industry.
In the little spare time she has, Jaci enjoys caring for and riding her horses, playing with her boys and dogs, snowboarding, vacationing when possible, and spending time with friends and family.
---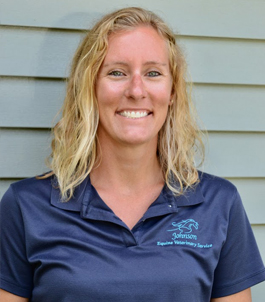 Nicole Howie, Administrative Assistant, Billing
Nicole has been working in various roles within the veterinary industry since 2000. She is married to her high school sweetheart, Wayne, and has 3 beautiful little kids. Nicole and her family reside in Helenville on a small hobby farm along with their dog, 4 horses, chickens, and goats. In her spare time, Nicole enjoys riding, crafting, and doing almost anything outdoors. She is excited to be a part of the incredible Johnson Equine team.
---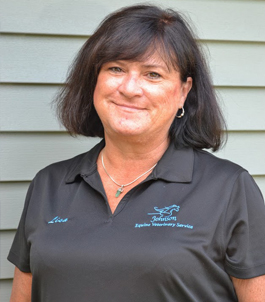 Lisa Neumann, Medical Records
Lisa was born in Minnesota but raised in Wisconsin for most of her life as a big fan of the Green & Gold. As a young girl, Lisa's dream was to own her own horse. Beginning at age 5, her parents spent every last penny they had to ensure she had the opportunity to see that dream through. She took weekly lessons in English Equitation, Drill, and Huntseat to prepare for that day. She also surrounded herself and worked with animals every chance she had. Fast forward, Lisa attended Catholic Memorial High School followed by St. Mary's College in Winona, MN. She dreamed of one day becoming a veterinarian but quickly realized the long, hard hours required. While in school, Lisa took an interest in Limnology and all things outdoor related. After college, she worked for the DNR, shocking rivers and monitoring fish health, always paying attention to every detail in all aspects of the job. She currently lives with her husband, Ken, of 28 years, and enjoys life on their 11 acre hobby farm with their dog and cat. They have one son who resides nearby who they love spending time with. Lisa is excited about combining her passion for horses and attention to detail in her new role at Johnson Equine.